Czech leaders meet Chinese FM, praise Sino-Czech ties, cooperation
2015-10-15 16:45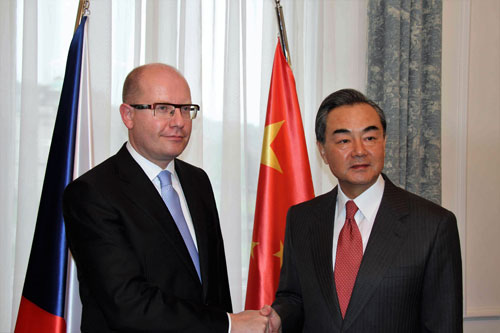 Czech Prime Minister Bohuslav Sobotka (L) meets with visiting Chinese Foreign Minister Wang Yi in Prague, the Czech Republic, Oct. 13, 2015. (Xinhua/Wang Yi)
PRAGUE, Oct. 14 (Xinhua) -- Czech President Milos Zeman and Prime Minister Bohuslav Sobotka met respectively with Chinese Foreign Minister Wang Yi in Prague on Tuesday, praising Sino-Czech ties and cooperation.
When meeting Wang, Zeman said that relations between the Czech Republic and China have grown well in recent years and important progress has been made in bilateral pragmatic cooperation.
Building "the Belt and Road" meets the interests of all countries, and the Czech Republic is willing to actively participate in the initiative, Zeman said.
"The Belt and Road Initiative" refers to the Silk Road Economic Belt and the 21st-Century Maritime Silk Road, proposed by Chinese President Xi Jinping in 2013 to connect Asian, European and African countries more closely and to promote cooperation between them.
The Czech Republic is willing to deepen the Sino-Czech cooperation in fields such as economy, trade and finance, promote bilateral people-to-people and cultural exchanges, and constantly advance the ties between the two countries, Zeman added.
Sobotka said that cooperation with China is the focus of the Czech government's external policies and the relations between the two countries are expected to see further growth.
Wang said that the Sino-Czech relations currently have returned to the right track, and the two sides should keep the good development momentum of their ties on the basis of respecting each other's core interests and major concerns.
China is willing to keep high-level communications with the Czech Republic, jointly build "the Belt and Road", expand bilateral trade and investment, strengthen exchanges and cooperation in infrastructure, industries, science and technology, and finance, among others, to achieve common development and prosperity, Wang said.
Wang also met with his Czech counterpart Lubomir Zaoralek in Prague on Tuesday.
Cooperation between China and the Central and Eastern European countries (CEEC) is based on mutual trust and need, and it shows enormous vitality and broad prospects, Wang said at a joint press conference with Zaoralek.
Wang pointed out that the success of the China-CEEC cooperation is attributable to the adherence of the principle of equality, mutual benefit, inclusiveness and opening up.